Introduction
December 26, 1776
That was the day that George Washington crossed the frozen Delaware river with only 2,400 troops (3,000 less than planned) and laid a whoopin' on the Hessian troops at the Battle of Trenton that changed the course of the American Revolution.  Washington delivered a surprise attach and victory over a much larger, but completely unprepared, Hessian auxiliary.
What does that have to do with today?  A lot.  Today's Weinkie was developed with Washington in mind.  Surprising the sleepy Pax fresh off the lethargic Christmas holiday with a beatdown of small rep counts but punishing effects.  It was a nonstop slugfest that delivered the results that YHC looks for
 AO: The Kingdom
PAX Count: 26
PAX: Apollo, Choo Choo, Baby Gap, Comrade (Respect Respect), Beetlejuice, BloodSport, Bobsled, Putt Putt, Talladega, Cash, Big Star (respect), Papa John (Respect), Snow Cap (Respect), Pepper, Rehab, Kick Stand, Check Mate, Camo, Strong Wood, Prince, Whisper, Happy Meal, Roadrunner (FNG), Show Me (FNG, Respect), Grasshopper (FNG)
QIC: KY
Conditions: 43F, Partly Cloudy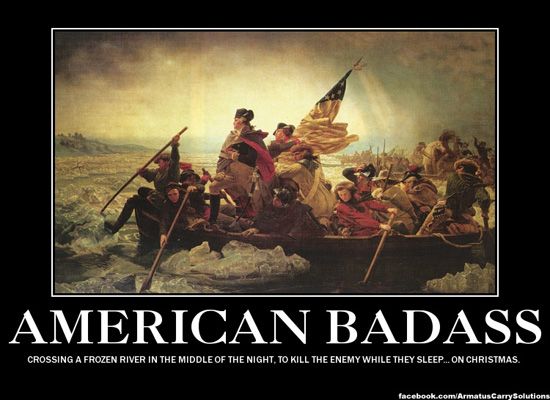 The Thang
3 Rounds:

5x Hand Release Merkins – On Q
5x Big Boy Sit-Ups – On Q
5x BW Squat – On Q
Lat Stretch
Pec Stretch

Hand out Lil' Darlins (cinder blocks) 
3 Rounds

12x 3 Degrees of Block Merkins – On Q
5x Plank Pull Through – IC
5X Block Front Raises – On Q

Form 2 columns and move to the playground wall
3 Rounds:

Pissed Off Angry Chair
5X – Balls to the Wall Shoulder Taps – IC
5x Dirty Hookups – IC

Last 2 rounds were 10X IC

3 Rounds

10X Block V-Ups – On Q
10X Flutter Kis w/ Block Pressed – IC
10X Block Z Press – On Q

Indian Run around the church
3 Rounds:

10X Bent over Rows – On Q
20X Block Bench Press – On Q
5X Skull Crushers – On Q

Stow Blocks, hold plank for the 6
Return to the flags
10X Burt Reynolds – IC
Broga
Numberama, Namearama, Freed to Lead topic: I2, Pledge, Announcements, TAPs
Coffeeteria with GLORIOUS breakfast tacos (H/T BOP)
Naked Man Moleskin
YHC received a proper gut check from The Daily Stoic in their daily email titled This is the Tradition We Hail From.  YHC highly recommends a read of this as he has probably read it 5 times in the past 2 days.
Humans have lived through adversity all through our time on this spinning hunk or rock.  We have two options when faced by that adversity: run away and hide or press on an do what is right.  YHC talked about George Washington and the Battle of Trenton in the introduction.  He was left with half his troops in freezing temperatures.  Yet he chose to do what was right.  And that literally changed the course of the American Revolution by instilling faith back in the troop ranks and general public.
Fast forward 244 years and we're still faced with adversity.  It is quite different, but nonetheless as critical.  We are in a world of a large pandemic, political difference, economic troubles, struggling families, and an uncertain future.  How we move through this matters greatly. 
You see, as leaders we have to do what is right.  All the time, no matter what.  Damn the consequences.  
What we do matters.  Treat your next action as it will echo in the halls of eternity.
Your BOTG on the Warpath
     – KY